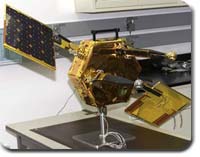 FPP was conceived, designed, built and deployed in a short time in response to concerns about external ISS structures becoming electrically charged. To meet the rushed schedule, a previously space qualified EHIP cell/battery (COTS cell) was selected. Since the FPP device was to be placed on the outside of the ISS structure, the LEO cycling effects on the cell/battery were unknown. Therefore, SRI performed thermal vacuum (LEO) cycling tests on 2 qualified cell models for the EHIP application, which indicated that vacuum exposure had no measurable effect.
Leo cycling / thermal vacuum chamber.
Dramatic impacts on the pre and post-test measured cell attributes after 4,900 cycles.